from http://www.nethack.org/v360/release.html:
As some may know, Terry Pratchett was a fan of NetHack, dating back to the time that we introduced the Tourist class which was openly based on the Discworld novels he penned. At the time of his passing this year, the DevTeam decided that it would be a fitting tribute to take a number of our favourite quotes from the various Discworld novels and incorporate them into the game.
If the above quote is not reason alone to try this marvellous computer game I hope to convince you with my humble thoughts. This is a post about the computer game nethack. When I first read about nethack I tested it for about 3 minutes and thought: "Oh my god, it's ancient. It's horrible. Why does anybody want to waste his time with nethack? How can I quit?"
My first impression of nethack was dead wrong!
Years later somehow I gave nethack another chance or better phrased I gave nethack the first real chance and now I am hooked. I love it. Playing nethack is so much fun. Every game is different. In some aspects it is like reading a good book — the most important things happen in your brain/imagination not on the page or on the screen. So please try it for at least 30 minutes before deciding to quit. I know that learning the keys can take some time especially if you are not yet familiar with the editor vim. Nethack should be a package in every major distribution so installation is hassle free. I recommend the classic commandline-interface for the visuals. Once installed, start nethack by typing nethack at your command-line prompt.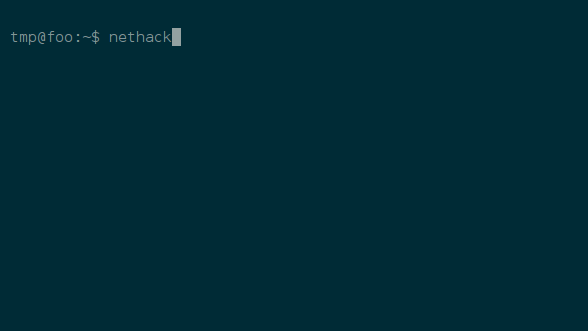 I recommend to manually select race, role, gender and alignment and stick with your choice for a few games. For your first games it may be wise to select a class which is well equipped for adventure and combat so don't pick the tourist class. I often play with an elven Ranger or a human wizard.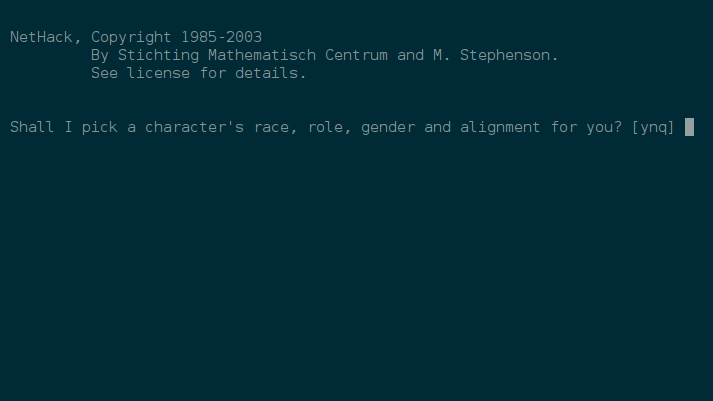 The adventure begins…¶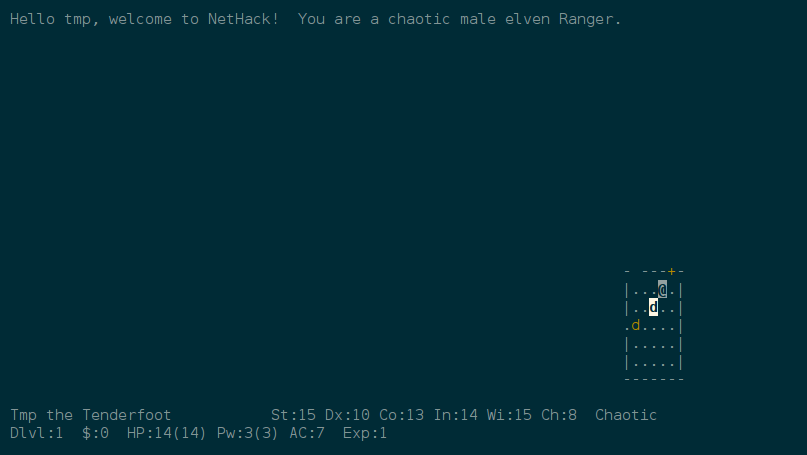 Once you have chosen your character it is time to baptize your animal. Press 'C' (yes, that is a capital C). Now navigate the cursor (with hjkl-keys) to your animal and press '.'. Enter your preferred name and confirm by pressing Enter.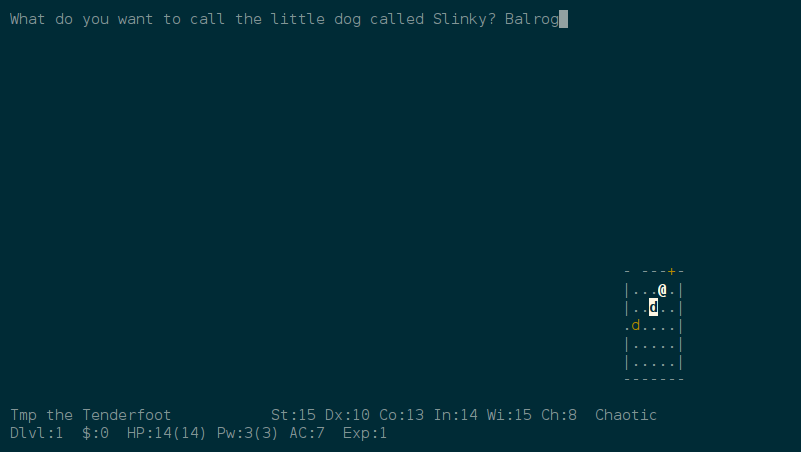 Start moving through the first level with the hjkl-keys. As a beginner there is absolutely no chance of winning the game. Try to stay alive. Look for food, gold, weapons and other useful items.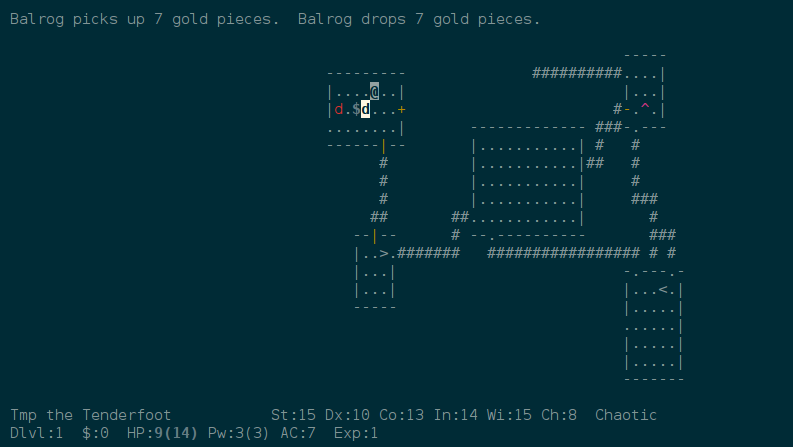 From the manpage of nethack:
"To get started you really only need to know two commands. The command ? will give you a list of the available commands (as well as other information) and the command / will identify the things you see on the screen.

To win the game (as opposed to merely playing to beat other people's high scores) you must locate the Amulet of Yendor which is somewhere below the 20th level of the dungeon and get it out. Nobody has achieved this yet; anybody who does will probably go down in history as a hero among heros."
Useful links¶
Read Hook's blogpost about nethack 3.6.0.
Official Guidebook: http://www.nethack.org/v360/Guidebook.html
Wikipedia: https://en.wikipedia.org/wiki/NetHack
---
If you have any questions, suggestions, thoughts and comments please feel free to email me.
---
License of this blog post:


This work is licensed under a Creative Commons Attribution-ShareAlike 4.0 International License.
---